Matthew 21:12
Verse Concepts
And Jesus entered the temple and drove out all those who were buying and selling in the temple, and overturned the tables of the money changers and the seats of those who were selling doves.

SOURCE: HTTPS://BIBLE.KNOWING-JESUS.COM/TOPICS/CHRIST-IN-THE-TEMPLE
I thought I should write today about a problem that many are not aware of, though it's been growing and growing for well over a decade. Are you aware that Starbucks, and many other businesses, are invading our houses of worship?
take our poll - story continues below
Completing this poll grants you access to DC Clothesline updates free of charge. You may opt out at anytime. You also agree to this site's Privacy Policy and Terms of Use.
I started seeing it happen in Southwest Missouri and I'm sure it's happening all over the country, as I write this.
There is a lot of competition in the business of winning souls.

The Association of Religion Data Archives, an initiative of Penn State University, reported 431 congregations in 2000 in the Springfield area. Church listings occupy 10 pages of the Springfield and Branson area AT&T Yellow Pages.

Rising above the pack are a few churches that boast more than 1,000 members. The biggest church in the area seems to be James River Assembly in Ozark, which has 6,000 members according to Assemblies of God data.

It offers unique amenities such as a Starbucks coffee shop and a fitness center that charges membership fees. Starbucks spokeswoman Lisa Passe said James River has a food service contract with the company. The church receives no discounts, she said, though she was unable to offer more details.

James River's leaders, including Senior Pastor John Lindell, declined numerous interview requests.
The above quote is from the Springfield Business Journal in 2006! Sixteen years ago folks. This is now happening all over America.
I was raised Catholic and actually attended a seminary for three years. I eventually left and now call myself non-denominational Christian. So I'm not as well versed as most in matters of the Bible, but anyone who knows even a little about the Bible surely sees this is wrong.
We can't keep the government out of our churches and we can't keep big business out either. Am I the only one who sees a problem here?
I told my friend today that this article needs to be written but I'm probably not the guy to write it. So I think I'll keep my opinions to myself and just let someone else finish this off.
Question? Is there a significance that it's Starbucks and not some other chain we are talking about?
Maybe.
Put on your conspiracy hats now.
February 13, 2020         By  Yicheng Wu
Note: This part is Section II. If you do not see Section I, please visit Section I at first. Thank you!
This section is to analyze the hidden information behind the Starbucks Logo in 1971 and 1992.
The Starbucks Corporation, which celebrates its 40th anniversary in March 2011, unveiled a new logo today in Seattle. Starbucks CEO Howard Schultz claimed that"We wanted to simplify our logo so that consumers overseas could more easily identify us. We received thousands of submissions for the redesigned logos and picked the one we thought was best. But we had no idea it contained satanic imagery!"
Indubitably, the satanic message of the Starbucks logo actually reveals in 1971 and 1992 although its hidden information does not show from 2011 to the current design of the Starbucks logo.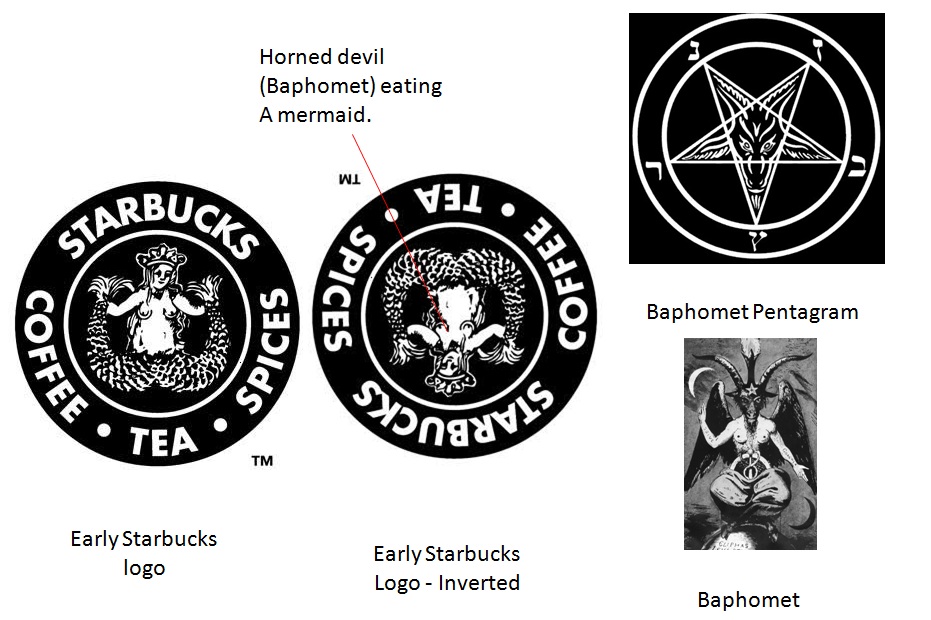 Religious rights groups say the new logo is replete with devilish symbols, especially in 1971 and 1992. According to the video from " 5 Darkest Starbucks Secrets", it reveals the hidden information behind this logo by flipping the logo up to down. It said:" Conspiracy theorists believe that the changes were made to hide Starbucks's true intent: Rotated the logo upside-down, the siren's out-of-place tail appears more at home as the horns of Baphomet." The Starbucks Company has a long history with Satanism. Since its very inception, people have been accusing the Seattle-based coffee company of promoting pagan values.
As we know, the story of Siren behind Starbucks Logo, Siren seduced sailors and kill them.  The story actually has its relation to Satanism.
Harvard symbolist Gary L. Blankstein. said
"Siren, like the ones that adorn each cup of Starbucks coffee, have traditionally been associated with Satanism. In ancient folklore, Sirens were believed to be the bodies of deceased prostitutes, possessed by the devil to seek revenge on unfaithful sailors."
The article from revealing truth today claims that the Starbucks logo has additional sinister roots. By Noticing the original Starbucks logo and notice the two tails, then we could think about: How could a mermaid swim with two tails? She couldn't. But are they really "tails?" Or is it an image of a woman spreading her serpentine legs apart in an inappropriate way? Does it show the information about the tail is "split" or "spread open" as to welcome men to her sexually? After many complaints about the original logo, Starbucks edited it.
"However, the new logo is still a siren and it still represents the same sensuality and loose morals of a siren. Again, why would Starbucks choose a siren for their logo when they are selling coffee? Because in this evil day and age we live in (it is unfortunate) "sex sells". It is sad that many people and companies have such loose morals. Society is being manipulated by many marketing agencies that produce sultry perfume ads, scantily-clad models in commercials, and even manipulate society by the very idea of sexuality." From this point of view, we could conclude that the hidden symbolism behind the Starbucks logo is actually representing our loose morals of modern society.
Illuminati Exposed
The most popular conspiracy theory is that it is a symbol of the Illuminati. The main idea is that the Illuminati are placing satanic symbols all over the world. Every time you grab a cup of Starbucks coffee you are actually being brainwashed by their secret symbolism.
If you analyze its logo design, you can find that it was linked from different angels to one triangle with a star that acts as the eye. 
By looking at the 1992's Starbucks'logo: the circle within a circle often symbolizes the secret society the outer circle is unaware of what the instructor does and look at the numbers of circles (except the letter "O"), they are six rings totally which can be a representation of 666.
So, what do you think of the Starbucks logo design?
Sources: https://weeklyworldnews.com/headlines/27163/new-
https://revealingtruthtoday.wordpress.com/tag/starbucks-logo-evil/
Video Sources:
#####
Pretty heavy stuff folks.
Again, whether Starbucks is satanic, Illuminati, or just a coffee chain really doesn't matter to a simple Christian. We go to church to learn and worship and escape from the immoralities of the society in which we live.
Do you really think big businesses need to be invading our houses of worship?
WWJD?
What would Jesus do? I think the answer is pretty clear on that.
Just something to think about from a guy that can say the "Hail Mary" and "Lord's Prayer" in Latin, but probably knows less than most about the gospels. LOL
I do know that Satanism is now getting equal rights to our Christian Churches and that should concern us all.
Keep your eyes open folks. Humanity is not evolving in a good way. People are embracing evil, even in our churches.
How much worse can it possibly get?
Dean Garrison is the publisher of DC Clothesline and DC Dirty Laundry. Please reprint this in part or full, just link back to us. God Bless.
Latest
More from Dean