Once again, we must point out that COVID has never been proven to exist by traditional means. It has never been isolated nor purified. Yet, now, after the introduction of gene therapy shots, fraudulently pushed upon the people as "vaccines," we continually hear the propaganda of fear being disseminated to us that there are "new strains" and the claim is that they are more dangerous. What you aren't being told is that a press release from Botswana reveals that all of these new strains found were discovered in the "fully vaccinated."
First, Tyler Durden reports on the "find".
Futures are sliding on Thursday night when, with most US traders snoring in a tryptophan coma, the world is suddenly freaking out, and algos are hitting bids, amid fears that a new coronavirus strain detected in South Africa, known as B.1.1529, reportedly carries an "extremely high number" of mutations and is "clearly very different" from previous incarnations, which may drive further waves of disease by evading the body's defenses South African scientists said.
take our poll - story continues below
Completing this poll grants you access to DC Clothesline updates free of charge. You may opt out at anytime. You also agree to this site's Privacy Policy and Terms of Use.
Translation: a new wave of restrictions, more lockdowns, and – eventually – trillions in new stimmies are coming… an outcome so "unexpected", we rhetorically asked if this was the endgame just one week ago.
According to the Guardian, only 10 cases in three countries have been confirmed by genomic sequencing (and up to 100 suspected), but that is more than enough for the Pharma-Government complex to set the wheels of widespread social panic and future lockdowns in motion and, according to the liberal outlet, "the variant has sparked serious concern among some researchers because a number of the mutations may help the virus evade immunity." Which of course is a polite way for Bill Gates to suggest you panic.
According to reports, the new B.1.1.529 variant has 32 mutations in the spike protein, the part of the virus that most vaccines use to prime the immune system against Covid. Mutations in the spike protein make it harder for immune cells to attack the pathogen, just as so many vaccine skeptics have been warning for the past year when making the point that taking inefficient medications shoved down the population's throats (such as those from Pfizer and Moderna) that do not serve as real vaccines but merely palliatives, will only lead to more dangerous and weaponized versions of the virus.
That's precisely what is happening now.
The variant was first spotted in Botswana, where three cases have now been sequenced. Six more have been confirmed in South Africa and one in Hong Kong in a traveler returning from South Africa.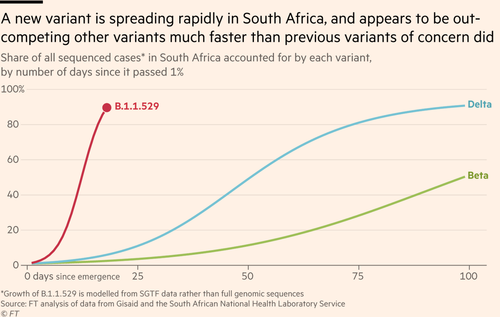 TRENDING:
Angela Merkel: Muslim Migrants didn't bring "Islamist Terrorism" to Germany
However, Botswana put out this official press release.
Notice that though there were allegedly 4 cases detected of these "new strains" of the CONvid-1984, in the very first sentence of the second paragraph it states quite clearly, "The preliminary report revealed that all the four had been fully vaccinated for COVID-19."
So, there you have it, in Botswana, all those that allegedly have this new strain have been "fully vaccinated."
I'd almost be willing to wager that all of the others who allegedly get the "new strain" are also "fully vaccinated."
vious now that you have to be willfully blind at this point not to see what they are doing.
Mac Slavo puts his finger right on what this is about.
Not enough people have been willing to take these shots, and they are going to try to blame this on the un"vaccinated" even though these "vaccines" are anything but. Of course, this new variant will also have the added changes and mutations that will make the "vaccines" less effective. That's hard to believe considering their "efficacy" at preventing the common cold has been almost zero percent.
They are already telling us to expect the new rise in cases, using the PCR tests that we all know aren't diagnostic tools. "Especially when the spike happens in Gauteng, everybody travels in and out of Gauteng from all corners of South Africa. So it's a given that in the next few days, the beginning of rising positivity rate and numbers is going to be happening. It's a matter of days and weeks before we see that," South Africa Minister of Health Joe Phaahla said during the briefing.
This plot to enslave mankind was just kicked into high gear. Stay alert, remain prepared, and understand the end game. As Larken Rose said recently: "Statism is gonna fall apart very soon, and you should all try to survive long enough to see it."
That's exactly right! It's my opinion that what we are seeing in this latest scariant is nothing more than the results of the COVID shots. The shot is what is bringing these sicknesses upon the people. Isn't it time we brought Big Pharma and their accomplices to justice?
TRENDING:
Two Weeks From War: China And India Brace For Conflict Over Border Dispute
Article posted with permission from Sons of Liberty Media