Facebook's secret "dangerous individuals and organizations" blacklist, which the Big Tech giant uses to silence dissenters as though they're on par with Islamic terrorists, has been leaked in full by The Intercept.
The blacklist, which applies to both Facebook and Instagram, has right-wing commentators like Nick Fuentes and Gavin McInnes listed alongside ISIS terrorist groups.
Joshua Caleb Sutter, the leader of the Satanic death cult Atomwaffen Division who was recently outed as a well-paid FBI informant, is on the list as well as Atomwaffen as a group. The Proud Boys, which has been led for years now by "prolific" FBI informant Enrique Tarrio, also made the list.
take our poll - story continues below
Completing this poll grants you access to DC Clothesline updates free of charge. You may opt out at anytime. You also agree to this site's Privacy Policy and Terms of Use.

Facebook also lists the anti-feminist and anti-SJW blog "A Voice For Men" as a "hate" group. The SPLC evidently labeled the site as "male supremacist" in 2018.
Some other notable blacklisted "hate" sites include the American Free Press, American Renaissance, Britain First and Red Ice Creations.
As a reminder, Facebook-owned Instagram deemed FBI crime stats "hate speech" last year.

Here's the full list of "dangerous individuals" (check out the full list of groups on The Intercept):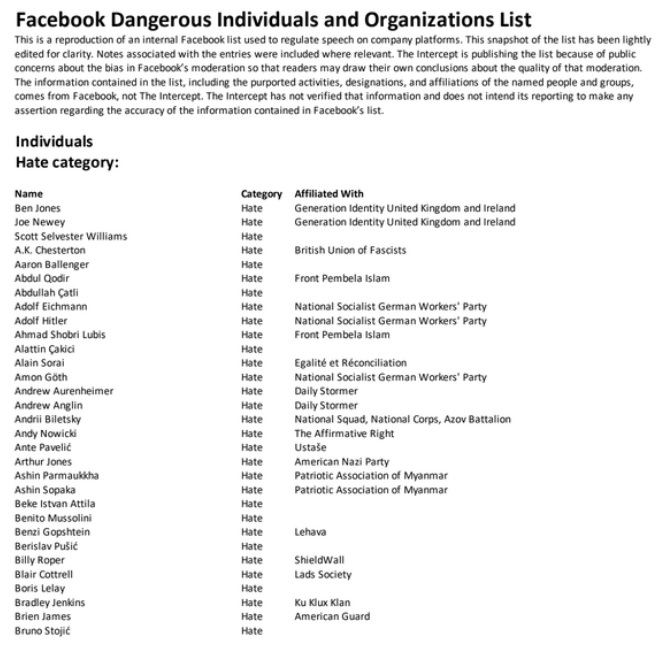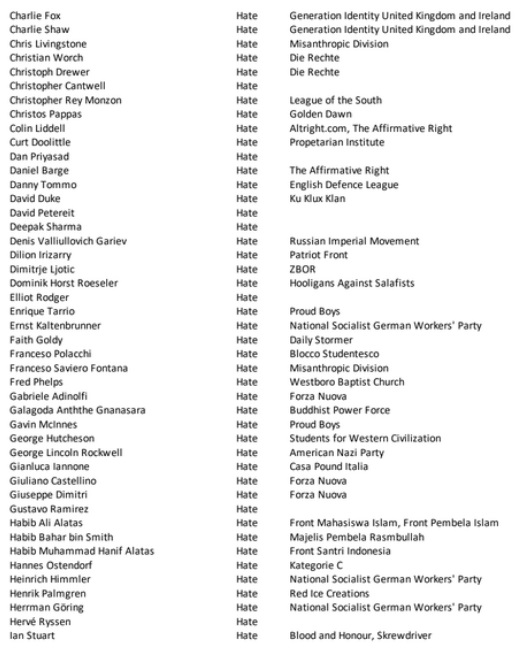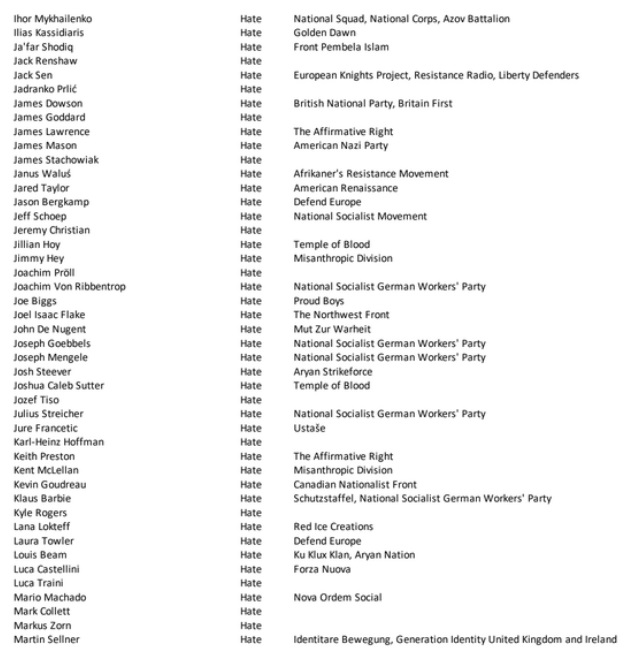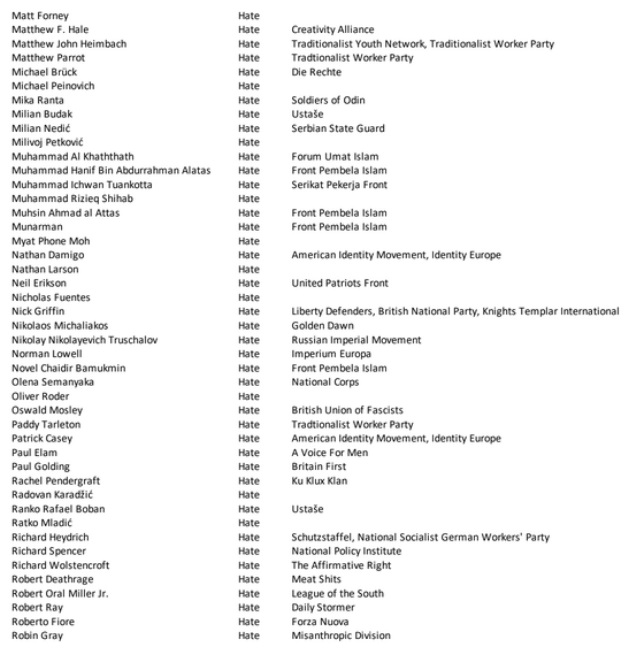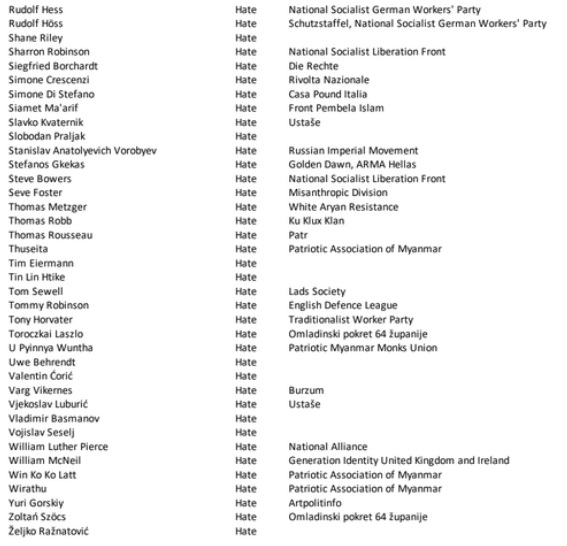 From The Intercept, "Revealed: Facebook's Secret Blacklist of 'Dangerous Individuals and Organizations' ":

A Facebook spokesperson categorically denied that Facebook gives extremist right-wing groups in the U.S. special treatment due to their association with mainstream conservative politics. They added that the company tiers groups based on their behavior, stating, "Where American groups satisfy our definition of a terrorist group, they are designated as terrorist organizations (E.g. The Base, Atomwaffen Division, National Socialist Order). [Note: The evidence suggests at least two out of three of those groups were run by the feds and their well-paid informants.] Where they satisfy our definition of hate groups, they are designated as hate organizations (For example, Proud Boys, Rise Above Movement, Patriot Front)."

The spokesperson framed the company's treatment of militias as one of aggressive regulation rather than looseness, saying Facebook's list of 900 such groups "is among the the most robust" in the world: "The Militarized Social Movement category was developed in 2020 explicitly to expand the range of organizations subject to our DOI policies precisely because of the changing threat environment. Our policy regarding militias is the strongest in the industry."

On the issue of how Facebook's tiers often seem to sort along racial and religious lines, the spokesperson cited the presence of the white supremacists and hate groups in Tier 1 and said "focusing solely on" terrorist groups in Tier 1 "is misleading." They added: "It's worth noting that our approach to white supremacist hate groups and terrorist organization is far more aggressive than any government's. All told, the United Nations, European Union, United States, United Kingdom, Canada, Australia, and France only designate thirteen distinct white supremacist organizations. Our definition of terrorism is public, detailed and was developed with significant input from outside experts and academics. Unlike some other definitions of terrorism, our definition is agnostic to religion, region, political outlook, or ideology. We have designated many organizations based outside the Middle Eastern and South Asian markets as terrorism, including orgs based in North America and Western Europe (including the National Socialist Order, the Feurerkrieg Division, the Irish Republican Army, and the National Action Group)."

[…] In May, Facebook deleted a variety of posts by Palestinians attempting to document Israeli state violence at Al Aqsa Mosque, the third holiest site in Islam, because company staff mistook it for an unrelated organization on the DIO list with "Al-Aqsa" in its name (of which there are several), judging from an internal memo obtained by BuzzFeed News. Last month, Facebook censored an Egyptian user who posted an Al Jazeera article about the Al-Qassam Brigades, a group active in neighboring Palestine, along with a caption that read simply "Ooh" in Arabic. Al-Qassam does not appear on the DIO list, and Facebook's Oversight Board wrote that "Facebook was unable to explain why two human reviewers originally judged the content to violate this policy."
There's a couple far-left extremist groups like Earth Liberation Front and It's Going Down on the list but the focus is overwhelmingly on suppressing the "far-right" in the West and groups aligned with Iran and Hezbollah in the Middle East — in other words, enemies of the US and Israel.
[Header image by Anthony Quintano via Flickr]
Follow InformationLiberation on Twitter, Facebook, Gab, Minds, Parler and Telegram.
Article by Chris Menahan