Even though hundreds of death threats called into Jewish centers last year were shown to be carried out by an Israeli-American teenager living in Israel, the House just voted 402-2 in favor of the "Combating Anti-Semitism Act of 2017" to expand hate crime laws and penalties against "religiously affiliated institutions."
The only two congressmen to vote against the act were libertarian republicans Justin Amash and Thomas Massie who have actual principles and care about the Constitution.
The Muslim-Jewish Advisory Council on Monday praised the passage of the bill:
take our poll - story continues below

Completing this poll grants you access to DC Clothesline updates free of charge. You may opt out at anytime. You also agree to this site's Privacy Policy and Terms of Use.

NEW YORK, Dec. 11, 2017 /PRNewswire-USNewswire/ — The Muslim-Jewish Advisory Council praises the passage of the Protecting Religiously Affiliated Institutions Act of 2017 (H.R. 1730) by the U.S. House of Representatives. The bill, adopted by a vote of 402-2, would expand coverage of federal hate crimes laws protecting houses of worship to include religiously affiliated institutions, and would send a signal of no tolerance for hate crimes against people of faith.

"Crimes against religious institutions are intended to create an atmosphere of fear that deters community members from attending worship services and social involvement. These hate crimes pose a danger to the religious freedom and security of all Americans," said Stanley Bergman, Co-Chair of the Council.

Co-Chair Farooq Kathwari added, "We look forward to the Senate also adopting this bill on a bipartisan basis as now is the time to take action against hate crimes in this country."

Hate crimes are on the rise. The recent FBI Hate Crimes Statistics report shows an increase of 4.6 percent in hate crimes incidents in 2016 compared to 2015. Anti-Jewish incidents remain the majority of religious-based hate crimes, while anti-Muslim incidents rose nearly 20 percent over 2015. These attacks infringe on the free exercise of religion protected by our Constitution.
According to the FBI's report on 2016 Hate Crime Statistics, anti-white hate crimes are the fastest growing racial hate crimes in America, jumping 19.34 percent in just one year from 2015 to 2016.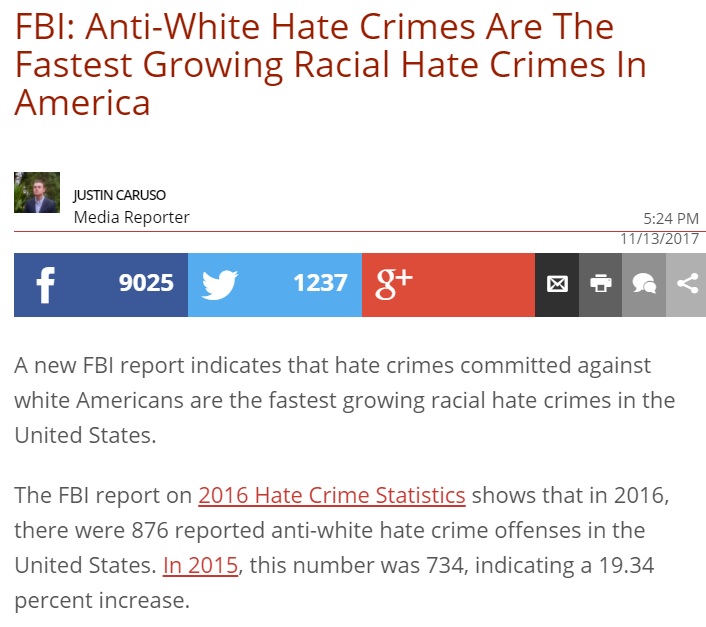 I wonder why they left that factoid out?
The bill amends P.L. 104-155, the Church Arson Prevention Act of 1996, expanding it to include religiously-affiliated institutions, such as schools and community centers, in addition to houses of worship already under the scope of its protections. The bill also amends the statute to encompass threats against, as well as acts that result in damage or destruction to, religious real property. Further, it enhances the penalty for intentional damage to religious real property from the current one year (misdemeanor) to three years (unless there is bodily injury to a person, in which case the penalty is higher).

The Muslim-Jewish Advisory Council brings together 44 civil society, religious, and business leaders from across the United States to advocate for domestic policy issues of common concern to the American Jewish and American Muslim communities. Reversing the recent rise in hate crimes, and promoting the place of religious minorities in American society are the Council's top priorities. The American Jewish Committee (AJC) and the Islamic Society of North America (ISNA) are its co-conveners.
Only one news article has been written about the legislation.
To put this bill in context, Brittany Covington, who plead guilty to a hate crime for live streaming the torture of a young, disabled, white teenager along with her three African-American friends was just given probation and community service.
Meanwhile, a Florida man just got 15 years in prison for leaving bacon inside a mosque.
Why the hell is our Republican congress voting to expand these unconstitutional hate crime laws?
If they're genuinely so concerned about these "hate crime" threats, why aren't they passing a bill to expand the penalties for hate crimes against white people, as the FBI says that's the fastest growing threat in America?
Courtesy of Information Liberation