Kansas City, MO — The family of the late Adrian Jones has filed a lawsuit against the state of Kansas, the state's Department for Children and Families and several others, for the horrifying murder of this innocent young boy.
In 2011, Adrian was taken from his mother by DCF over claims that she wasn't able to properly supervise her child. It is a matter of court record, according to the suit, that Adrian was in perfect health when he was taken by the state. However, all that would quickly change.
As the court records show, "this wrongful death lawsuit involves the grotesque circumstances surrounding the tragically short and brutish life of A.J., a little boy who died a horrific, unimaginably gruesome death at the hands of his father and stepmother, an entirely avoidable child-homicide."
take our poll - story continues below
Completing this poll grants you access to DC Clothesline updates free of charge. You may opt out at anytime. You also agree to this site's Privacy Policy and Terms of Use.
Within just a few months of DCF taking Adrian and placing him in the care of his stepmother—who was observed caring for the child while high on drugs—and admittedly abusive father, the reports of injuries began pouring in.
The first reports were of Adrian's sibling who suffered internal bleeding and extensive bruising all over his body. In spite of the medical provider explicitly noting that these injuries did not fit the description Adrian's father gave of the child falling down stairs, DCF failed to act.
A few weeks later, another hotline call would be placed to DCF in which Adrian's father admitted Adrian "busted his head open." Again, no action.
During the inquiry into a third hotline call, the stepmother admitted that the father abuses the children and her. Police also recorded Adrian having a black eye, and the stepmother admitted that she heard 'choking noises' when the father would take Adrian to the bathroom. Again, no action.
"A.J.'s mistreatment was the repeated subject of a seemingly endless series of reports and hotline calls to social workers and social service agencies in both Missouri and Kansas," the lawsuit states. "KsDCF conducted a forensic interview of A.J.'s siblings, who disclosed Father hits the children on the head, Father puts the children in a corner and hits the legs, stomach, and hands, Father's hands were red after he hit the children, and Stepmother kicked A.J. with a boot, hit A.J. in the head with toys and other objects."
In spite of the mountain of evidence showing an ongoing pattern of horrific child abuse, DCF failed to act on multiple occasions. Instead, they made the father sign a document in which he promised to not abuse his son. According to the lawsuit, this amounted to little more than a "pinky promise" with a monster.
"But instead of responding by permanently removing the child from his home, the agencies and social workers took a strangely different approach: They meticulously investigated and carefully documented every violent kick, punch, slap, and injury inflicted upon A.J. by his sadistic father and stepmother, and generated stacks of records and reports chronicling the ceaseless, stomach-churning abuse. But their idea of intervention was limited, almost exclusively, to having A.J.'s father and stepmother sign a piece of paper agreeing to stop torturing the child – the legal equivalent of a "pinky swear." As it turned out, that signed paper might as well have been A.J.'s death warrant," the lawsuit states.
In 2012, the father and stepmother moved to Missouri. For nearly two more years, Missouri social workers documented similar abuse. However, one social worker, Rebecca Caldwell, named in the suit, wrote off Adrian's bruises as 'dirt'—in spite of the fact that Adrian reported the abuse.
Just like their counterparts in Kansas, the Missouri Department of Social Services also took no action.
In 2014, another social worker, Amanda Donnelly, named in the suit, documented marks on Adrian's body and noted how Adrian told her his dad would tape his arms and legs as punishment. Donnelly, like the social workers and police before her, did not act.
Months later, Adrian was sent to various mental hospitals. During this time, his father repeatedly told MDSS and social workers that he did not want Adrian back. In spite of several years of documented abuse, and the fact that the father explicitly noted that he did not want the child, the state put this little boy back in the care of these two monsters.
Sometime between 2014 and 2015, DCF received hotline calls reporting pictures of Adrian being abused were posted on his stepmother's Facebook page, according to the lawsuit.
They were literally bragging about torturing a child on social media. Again, no action was taken. Months later, it was too late. According to the lawsuit, "naked, tortured, and starved to death, his (Adrian's) remains were found discarded in a pig pen on a farm in Kansas."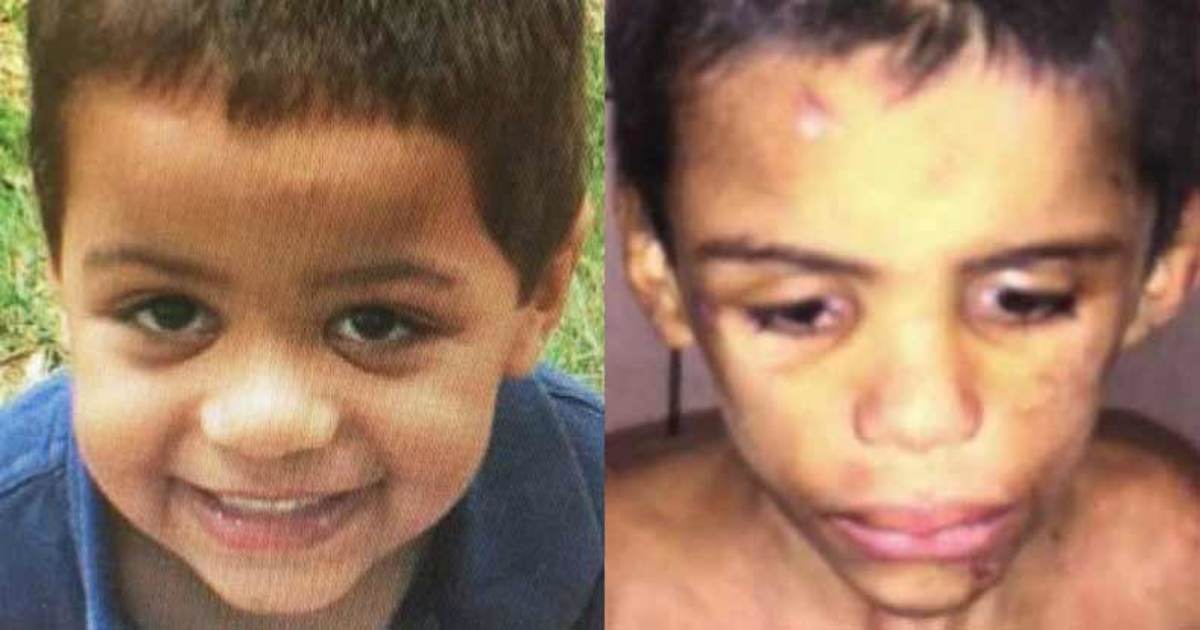 In case after case, we see the state remove children from caring families who may have been caught with a plant or chose to homeschool. TFTP has documented multiple cases in which children were taken from good parents only to be placed into horrifying situations and end up molested, tortured, and murdered.
While Adrian's mother may have been unfit, the fact that multiple state agencies allowed a little boy to be tortured to death, while documenting the abuse along the way, speaks to the gross incompetence of bureaucracies who claim the authority to take children and do with them what they please.
"Let's just realize we need to fix the system we need to stop letting it happen to children it happens too often," Judy Conway, Adrian's grandmother, said. "When a child flat out says that they're being abused then someone needs to step up and protect that child."
Courtesy of The Free Thought Project
Matt Agorist is an honorably discharged veteran of the USMC and former intelligence operator directly tasked by the NSA. This prior experience gives him unique insight into the world of government corruption and the American police state. Agorist has been an independent journalist for over a decade and has been featured on mainstream networks around the world. Agorist is also the Editor at Large at the Free Thought Project. Follow @MattAgorist on Twitter, Steemit, and now on Facebook.