Despite everything that just happened in France, on Sunday the Obama administration made it clear that it still plans to resettle at least 10,000 Syrian refugees in communities all over the United States within the next year.  Thanks to Obama, the U.S. has already been absorbing thousands of refugees from the Middle East each year, and as you will see below, just last week administration officials expressed a desire to "increase and accelerate" that process.  So far, the list of states that have received the most refugees includes Arizona, California, Florida, Illinois, Massachusetts, Michigan, Minnesota, North Carolina, New York, Ohio, Pennsylvania, Texas, Virginia, Washington and Wisconsin.  But by the time it is all said and done, it is likely that Syrian refugees will end up in virtually every major city in the United States.  The U.S. State Department has established "refugee processing centers" in 48 different states, and you can view the entire list right here.  Considering what just took place in Paris, is this really a good idea?
In recent months, the massive influx of refugees into Europe has created a complete and utter nightmare.  Large numbers of refugees have gotten "lost", violent crime is out of control in many of the areas where these refugees have been resettled, and nations that were once extremely peaceful such as Norway and Sweden are now dealing with an epidemic of rape.  For much, much more on the horror that Europe is now facing, please check out this excellent video.
And of course you have probably heard by now that at least one of the terrorists that carried out the attacks in Paris came into Europe "as a Syrian migrant"…
take our poll - story continues below

Completing this poll grants you access to DC Clothesline updates free of charge. You may opt out at anytime. You also agree to this site's Privacy Policy and Terms of Use.

One of the bombers who carried out the Paris terrorist attacks entered Europe as a Syrian migrant, according to foreign officials.

French authorities matched the remains of one of the suicide bombers from the Friday attacks to a Syrian passport that was used to apply for asylum in Europe, says Greek minister for citizen protection Nikos Toskas.
But even though ISIS has claimed responsibility for the attacks in France, Barack Obama doesn't seem very alarmed.  And it was just last week that Obama stated that ISIS had been "contained".  The following comes from the Hill…
The White House has been forced onto the defense over President Obama's claim that the Islamic State in Iraq and Syria (ISIS) has been "contained" — a statement that came one day before the group carried out the deadliest massacre in France in a generation.

"We have contained them," Obama said in an interview with ABC News that aired on Thursday. "I don't think they're gaining strength."
You would think that what happened on Friday would make Obama rethink things, but that has not happened.
Over the weekend, the Obama administration insisted that plans to resettle Syrian refugees all over America have not changed, and as I mentioned above, just last week officials were expressing a desire "to increase and accelerate the number of Syrian refugees" being resettled inside this country…
The Obama administration is moving to increase and accelerate the number of Syrian refugees who might be admitted into the United States by opening new screening outposts in Iraq and Lebanon, administration officials told Reuters on Friday.

The move comes after President Barack Obama pledged in September to admit an additional 10,000 Syrian refugees in 2016, torn by four years of civil war and disorder.
We have become so politically correct that we cannot even see what we are doing to ourselves.  Most of these "refugees" from Syria are strong young men, and they are creating chaos wherever they go in Europe.
The same thing will happen here, and Obama must realize this.
The following map comes from Weasel Zippers, and it shows where Syrian refugees have already been resettled…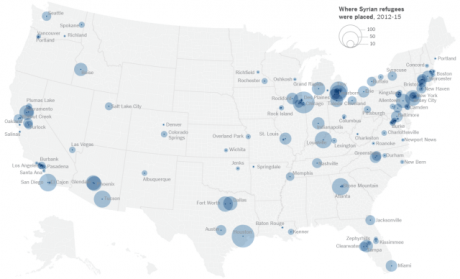 And of course this is just part of a rising trend of Islamic immigration into this nation.  The following numbers come from a recent article by Daniel Horowitz…
Numbers: We have admitted approximately 1.6 million immigrants from predominantly Muslim countries from 2001-2013, double the average rate prior to 9/11.
Recent Trend: Immigration from Muslim countries is the fastest growing segment of our annual admissions.  The countries with the highest percentage increase since 2010 have all been predominantly Muslim countries. Saudi Arabia (up 93 percent); Bangladesh up 37 percent); Iraq (up 36 percent); Egypt (up 25 percent); Pakistan, India, and Ethiopia (all up 24 percent); Nigeria and Ghana (both up 21 percent)
Trajectory: According to Pew Research, the Muslim population is expected to triple by 2050 – from 2.77 million to 8.1 million. It is expected to double in just 15 years and surpass the United State's Jewish population by 2040.
Fortunately, at least some of our leaders are starting to take a stand after witnessing the horrific attacks in Paris on Friday.  One of them is Governor Rick Snyder of Michigan…
Michigan Gov. Rick Snyder says he is suspending efforts to bring Syrian refugees to Michigan in light of the deadly terrorist attacks in Paris on Friday.

"Given the terrible situation in Paris, I've directed that we put on hold our efforts to accept new refugees until the U.S. Department of Homeland Security completes a full review of security clearances and procedures," Snyder said in a statement released by his office on Sunday.

"Michigan is a welcoming state and we are proud of our rich history of immigration," the statement said. "But our first priority is protecting the safety of our residents."
Over in Europe, things are different.  Political correctness is such a dominant force that hardly any politicians are willing to step up and say that enough is enough.  So the waves of immigrants will continue to pour in, adding fuel to the fires that are already burning.  According to the UN, another 600,000 refugees could come pouring into Europe within the next four months alone…
A plan by the Office of the United Nations High Commissioner for Refugees for dealing with the European refugee crisis anticipates that as many as 5,000 Middle Eastern refugees and migrants could pass from Turkey into Europe each day over the next four months—with a total of 600,000 moving into Europe from November through February.
Certainly something should be done for the vast numbers of people that are being displaced by the war in Syria.  Since Saudi Arabia has played such a major role in creating the conflict there, they should play a leading role in taking in these refugees, but they are not doing that.
Here in the United States, I could understand taking in Christians that are being brutally persecuted for their faith by ISIS, and also doing something for those that cannot help themselves (children and the elderly).
But the waves of refugees that are invading Europe right now are made up overwhelmingly of able-bodied young people, and most of them are males.
Obama insists that he is "screening" the refugees that he is "resettling" in communities all over America, but how can he possibly determine which ones are terrorists and which ones are not?
The truth is that Obama has no way of doing this and he knows that.
The seeds that Barack Obama is planting today could end up producing a very bitter harvest.
And you never know – perhaps deep inside that is exactly what he wants.
Courtesy of End of the American Dream.