Sure.  I started a war….but it was a really small war.
The revelations from Hillary's emails are coming out at a rapid pace and call into question certain incidents and the timing involved.  As we all know, Ambassador Stevens was not assigned to Benghazi.  He was there to meet with a Turkish diplomat about the transfer of weapons from Benghazi to Syria.  Just one hour after the diplomat left, the attack on the Benghazi  compound began.  We also know that Stinger missiles (Surface to air missiles) were a major part of that transfer.  The question then becomes, "Where did the missiles come from?"  The answer could be Hillary Clinton.
take our poll - story continues below
Completing this poll grants you access to DC Clothesline updates free of charge. You may opt out at anytime. You also agree to this site's Privacy Policy and Terms of Use.
Roger L Simon spoke to two US diplomats back in 2013 that did not attract a lot of attention at the time.  The two diplomats had hired lawyers because their positions weren't fully protected by the whistleblower law.  The diplomats told PJ Media that the State Department issued these stinger missiles to groups that turned out to be Al Qaeda.  Usually weapon transfers like this are handled by the CIA, but they were against the transfer, calling it too risky.  But Hillary wanted to proceed because she felt that it would help overthrow Gadhafi on the cheap, so to speak. The diplomats claimed that Stevens was in Benghazi to buy back the missiles from Al Qaeda.  That would seem to fit, since the weapons could then be transferred to antigovernment forces in Syria through Turkey. That would also explain the CIA complex located in Benghazi.
We have evidence that neither the Pentagon nor former Rep. Dennis Kucinich trusted Hillary Clinton and her opinions on Libya and they worked to avoid war there.  They secretly established their own lines of communications and were told that Hillary had lied and that lie led to war.  The Libyans recorded these conversations and produced the tapes in which it was revealed that Hillary ignored the reports from the US intelligence community and insisted that Libya planned mass killings of it's citizens, forcing the US into the conflict.
The diplomats also told Simon that the White House ordered Gen Hamm, who was in charge of AFRICOM, not to send assistance to Benghazi and when he decided to act anyway, the White House sent him a message that if he sent the aid, he would be relieved of his command, after which, he stood down.  They also added that they believed that the Petraeus affair was leaked at that time to keep the CIA quiet.  It all fits.
So, how did the terrorists know when to attack?  Perhaps they hacked Hillary's email server.  or maybe they hacked Sidney Blumenthal's.  His email was hacked before and his orrespondence with Hillary was published in the papers: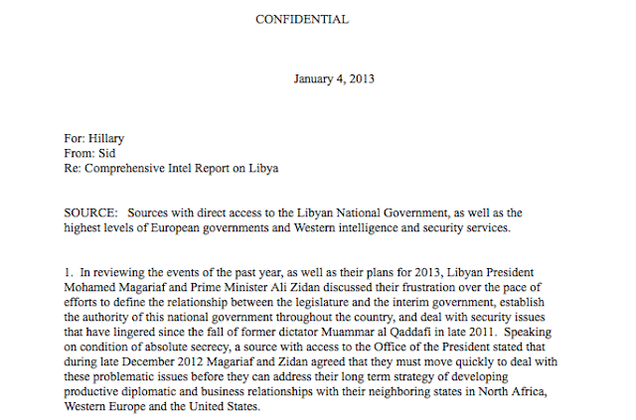 During their conversations about Libya, it could have been revealed when Stevens would be in Benghazi and what he was doing there.  A forensic scientist, who works with computers and cell phones would be able to tell if a server or computer was hacked.  But Hillary refuses to allow her server to be searched.  Is this why?
Courtesy of Red Statements.