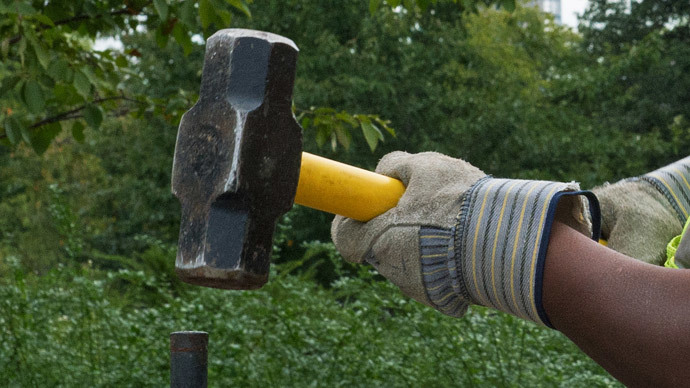 In a fit of rage, Rasheed Ahmad gouged out his former wife's eyes with a hammer, Pakistani police have reported. The man is said to have wanted "teach her a lesson for having loose morals."
The vicious attack occurred Sunday in Bahawalnagar, a district in Pakistan's Punjab province, The Express Tribune said Tuesday.
When the couple and their five children were faced with financial hardship, 37-year-old Shama Bibi took a position working as a maid. Incensed by her decision to work without his approval, Ahmad subsequently filed for divorce.
Following the termination of their marriage, Bibi left for Lahore with one of her sons. Four of her younger children remained with Ahmad in the city of Minchinabad.
Bibi's attempt to visit her children at their father's home on Sunday culminated in a brutal attack, which left her blinded and unable to walk. Horrified at the vicious treatment she was subjected to her family rushed her to a local hospital in Minchinabad.
take our poll - story continues below
Completing this poll grants you access to DC Clothesline updates free of charge. You may opt out at anytime. You also agree to this site's Privacy Policy and Terms of Use.
Her ex-husband was questioned by police several hours after the incident. Ahmad confessed to assaulting and blinding his former wife of 19 years.
"I wanted to send a message through her to all women with loose morals," he said. Doctors said the woman lost cornea in both eyes and had five fractures in her legs.
Pakistan's conservative traditions in regard to women have led to many similar attacks, and even"honor killings" of women who do things that are interpreted as immodest or unacceptable behavior are often overlooked by the authorities. Just last week a young couple was found in eastern Pakistan tied up and with their throats slit by the girl's parents after they married for love.
The Human Rights Commission of Pakistan said that 869 such killings were reported in the media last year, but the true figure is likely to be much higher as many cases are not reported and the government doesn't collect any central statistics.
Courtesy of RT.com
Editor's Note: Pakistan has an estimated Islamic population of 95-98%.